My Summer Weekend Holiday in NORTH KOREA



My trip to Mount Kumgang.
(August 12- 13, 2005)
Friday August 12th, I leave Seoul Station, with my tour guide (a young beautiful girl who spoke really good English) on the overnight train to the Eastern side of Korea. We arrive at Donghae station at 3am and from there we board the tour buses parked outside. It's a 2 hour drive going through areas such as Gangneung, Sokcho, and Goseong (close to the border). We eat breakfast at some resort hotel, and is an main center for the tour group that organizes this tour. Hyundai Asan is the main corporation that arranges the tour runs. As well they invested into the development of the resort area. Over here, we are given our ID tags which they refer to as a North Korean passport or pass permit with our photo on it. We are told this must be worn and visible at all times that we are in North Korea, and to keep them clean.

After clearing (checking out of) South Korea Immigration at Goseong, we board the busses and proceed down this road, all along this heavily beefed up military area. Down this narrow road path we pass the Southern's most boundary line and pass through this open gate. Once past that open gate, we are in North Korea, as we see all along the road, armed North Korean Soldiers watching us. The bus stops at this tented building and we get off the bus and are escorted into a building. The North Korean Soldiers here have cold faces and armed to the teeth ready to aim and fire at any time. Our id's and passports and cameras are checked and we are cleared through.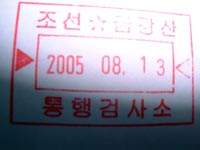 They did however give me a bit of a hassle as the Soldier questioning me spoke in broken English and had never seen a Canadian Passport. He was asking what country I was from. After saying Canada, he keeps asking are you AMERICAN. Then asked what I was doing in Korea and when my passport expired. After checking with his own supervisor, and my pretty looking tour guide translating for me, I was OK to go through.
We are told many times on the tour: NO PICTURES during the bus ride to the resort, and even on the shuttle buses when moving. The roads have check points every few minutes we drive on with armed North Korean Soldiers watching us. If they see anyone snapping pictures, they will wave a flag to signal, stop the bus and the photographer is to step forward, give up his/her camera, and pay a $100 US fine. If digital, you're damn lucky if they force you to erase the photo. Other rules: No talking about economics or politics. Mostly photography will be on the mountains. No photos of the local people unless they consent, and no photos of the soldiers. The country's leader Kim Jong-il is to be referred to as THE GREAT GENERAL, and everyone, including foreigners are to show respect for him. Referring to him as something degrading can land you in prison. Spitting on or pissing on a picture of him or even crumbling something with his picture in it, can also land you in deep shit. All of the workers at the resort and the soldiers at the Immigration stop all wore pins with the General on it, and none of these pins were for sale at the souvenir shops.
On this isolated road from the locals which are in full view we pass by military guards, all keeping watch on the busses passing by. There are no cars on the roads. Didn't see any tractors at all. Only a few riding bikes on dirt roads lying next to the paved road which the tour busses were on, all fenced in. There was no electricity, and the telephone poles I did see were probably for the military or linking to the resort. Farmers were using hand tools and plowing with oxen. Other locals were bathing or washing their clothes in the rivers. Some stop what they were doing to stare at the tour buses.
We reach the main resort area. (I think they refer to as Onjeonggak) Very much all new buildings, with the exception on the outer skirts were old looking and worn out buildings. There were lots of soldiers around but not present on the main resort compound. First part of the tour is Guryongyeon. It's a 3-4 hour walk, all the way up, this mountain just to see a waterfall. On the mountains and all the spots of beauty were monuments to the father and son leaders (The son is now currently running the country), some even carved on the canyon walls. After the long walk, my tour guide and I were starving, so we stop at the Mokrangwan Restaurant for a North Korean lunch. The North Korean menu was either cold noodles or bimbimbap. Meat was scarce plus would be a risk for any of us to eat.

Due to time and the slowness of the restaurant service, I couldn't make it on time for the Mammulsang Mountain climb, nor check out Samilpo Lake as the alternative. So my tour guide and I headed back to Onjeongaggak (the main tourist area spot) and boarded the shuttle bus to check out Hotel Kumgangsan and a Hot Spring Spa where you got a view of Manmulsang mountain in the background.
After that it was back on the busses to head back home. Once again we had to stop at the North Korean border stop to check out and hand in our North Korean permits. (This time they seem happy that we are leaving them and for me it was simple checking out of there). On the way back being light outside, more scenery and farm land all the way to their fenced in boundary with an open gate where the North Korean guards were heavily armed and at close watch, even on one another (in case one decides to make a run for the DMZ line to the other side) Once over the line we see the South Korean ROK Soldiers on duty and off duty ones waving to the buses with smiles on their faces (the ones not on duty), meaning we are back in South Korea. Once again we stop and go through South Korea Immigration, and back on the bus to Donghae Station, to catch the train back to Seoul.
In general this was an interesting experience for me to see a small country that's pretty much isolated from the rest of the world. Only just recently there's been documentaries about North Korea, where foreign journalists have managed to sneak video footage of what actually is going on there, and believe me as much as the North Korean propaganda says how wonderful it is living there, it is NOT pretty. The only privileged people (and families included) there are the athletes that compete and do well in the Olympics or Soccer, politicians serving under Kim Jong Il and the soldiers.
If you have the chance to travel, check it out. As well when in Seoul, do visit The DMZ and Panmunjom for your complete Cold War tour experience...
Onjeonggak The main area

A view of Mamulsang Mountain

Kumgangsan Hotel

Guryongyeon (from order of the walk I took pictures of sights and monumentsgoing up to see this waterfall)